Please visit the Halutza project page for more information on the Halutza excavation.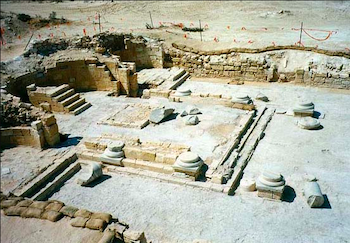 Halutza, the only city (Polis) in the Negev desert is second in importance to Petra and is still to a large extent, covered under a layer of sand dunes. The city was occupied from the Nabatean through the Byzantine periods. Halutza was thought to have been totally robbed of its stones until excavations revealed that the city lay nearly intact beneath two to four meters of windblown sands.
    Excavations began under Prof. A. Negev et al. 18 years ago, and were resumed in 1997. In the last few seasons, parts of a Byzantine kiln workshop, a Roman theater (the only one in the Negev), and a large basilical church, were further unearthed. Following the excavation some of these structures were partially covered for conservation considerations. A pottery kiln works has also been discovered in what was the most important city in the Negev during the Roman through early-Byzantine times.
    The remains of the city of Halutza are located just 12 miles southwest of Beer-Sheva in southern Israel. The Archaeology Division of Ben-Gurion university in the Negev conducted its third season of study excavation at the ancient city during the summer of 2000 and intends to continue excavations in and around the cathedral church of the city in the near future. Renewed excavation efforts are directed by Dr. Haim Goldfus and Mr. Benny Arubas on behalf of BGuniversity. Under their direction, the group hopes to unearth what is believed to be a Nabatean temple.
    For more information on the Halutza excavation project, contact Dr. Haim Goldfus at:hgoldfus@bgumail.bgu.ac.il
Tel . 617-2327246 or write to:
Dr. Haim Goldfus
Archaeology Division, Dept. of Bible & Ancient Near East
Ben-Gurion University, Beer-Sheva, Israel